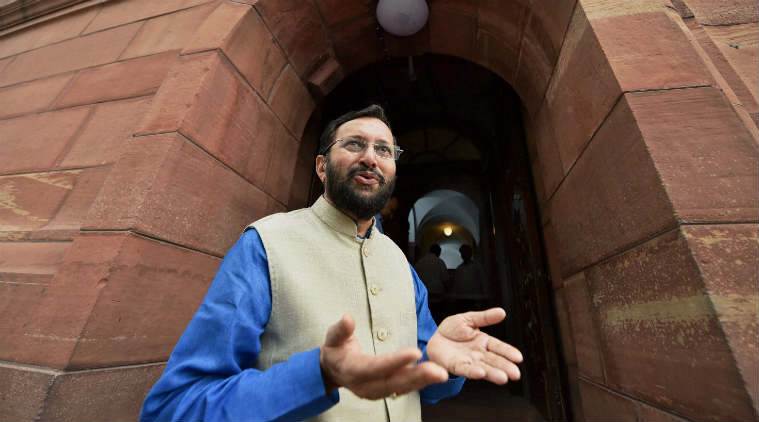 Prakash Javadekar
Just weeks after the IITs were asked to increase their student strength, the HRD Ministry is set to make a similar proposal to the central universities at an upcoming meeting of all vice-chancellors (V-C) with minister Prakash Javadekar in Varanasi on October 6.
The agenda was circulated by the University Grants Commission (UGC) to all the central universities this week. Currently, there are about 40 central universities in the country of which almost half have been set up in the last decade. The government, sources said, will urge the institutions to optimise the use of their infrastructure and resources by admitting more students. Higher Education Secretary V S Oberoi had written to all 40 vice-chancellors on this issue about two months ago and matter will be raised again at the Varanasi meeting.
Oberoi's letter, according to a V-C who did not wish to be identified, states that the per-student expenditure in central universities is extraordinarily high compared to the state universities and hence, the former can afford to increase seats. However, unlike the IITs, the central universities have not been given a specific target to achieve in terms of student enrollment.
This proposal, however, isn't entirely new. The 12th Five Year Plan document, prepared by the UGC, has suggested that as many as 30 central universities can increase their intake by 100 per cent during the plan period. The document defined the student population a university should support in relation to its campus area. For instance, a central varsity with a campus space between 1,000 and 2,000 acre was expected to have 15,000 to 25,000 students. In this context, JNU, which has a campus area of approximately 1,100 acres and about 7,500 students, could have made room for more students, the document stated. But nothing of this sort has happened since then.
 Apart from this, the central universities, at the Varanasi meeting, will also be urged to improve their flailing performance in international rankings, expedite their NAAC accreditation, regularly update/revise their curriculum, set up equal opportunity cells headed by anti-discrimination officers and introduce vocational programmes.