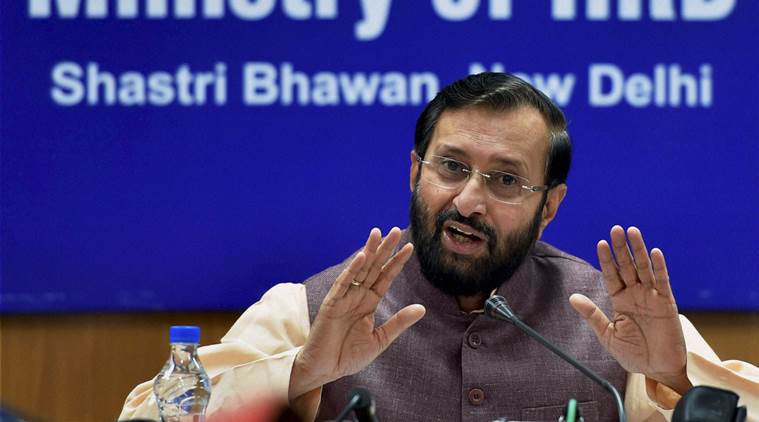 Union HRD Minister Prakash Javadekar. PTI Photo
The Indian Institutes of Management (IIMs) have agreed to admit more students to their postgraduate programmes (PGP) over the next few years, HRD Minister Prakash Javadekar announced on Tuesday after his first meeting with the B-school directors in Shillong.
Although he suggested that the IIMs would double their student intake, the directors haven't agreed either on a number or a deadline for the proposed expansion.
"Each institute is expected to go back to the government with an expansion plan specifying the number of seats they can afford to increase and the timeline to achieve the same," said an IIM director, who did not wish to be identified. Currently, there are close to 10,000 students studying across 19 IIMs.
"In this context, we also raised the issue that whether the government will fund the expansion of infrastructure in order to admit more students. The ministry's stand on this is not clear and the discussion was inconclusive," the director added.
The older IIMs in Ahmedabad, Bangalore, Calcutta, Kozhikode, Lucknow and Indore are financially independent and haven't taken funds from the government in the current financial year.
According to the press statement issued by the government, the minister also discussed "the possibility of expansion of doctoral programmes" at the IIMs to address the problem of vacant faculty positions.
"His focus was faculty recruitment. In fact, he started the meeting with this issue. The IIMs pointed out that teacher shortage was also due to lack of good applicants. This is when the minister proposed that the institutes should expand their doctoral programmes to build a pipeline of quality applicants for future. He also encouraged the IIM-Shillong students to consider teaching as a career option during his interaction with them," said another IIM head.
There was no discussion on reservation of faculty posts on Tuesday as it wasn't on the agenda.