Interpretation of verse in Hindi textbook 'disturbs' Muslim students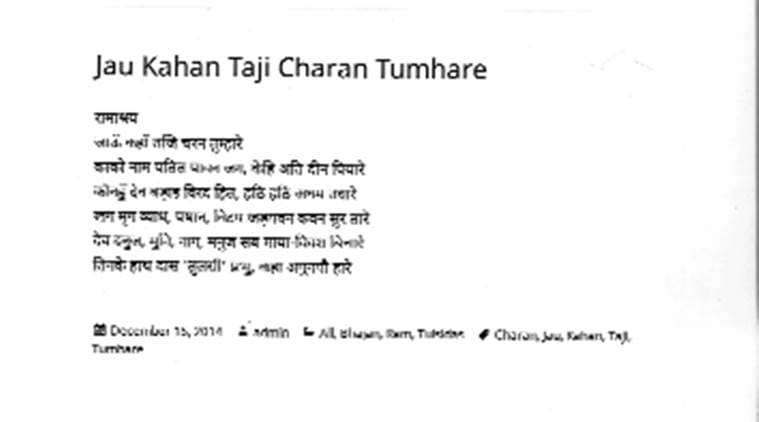 Kandolkar says his Muslim students have strongly objected to this interpretation. The letter was written last month. (File)
A teacher has written to the Gujarat State School Textbook Board (GSSTB) and the Gujarat Secondary and Higher Secondary Education Board (GSHSEB), pointing out "errors" in the Class IX Hindi textbook, including mistakes in a verse by poet Tulsidas, and its interpretation which has "disturbed" his Muslim students. Devendra Kandolkar, who runs informal classes for children residing in the coastal areas of Kutch, in his letter listed errors in the book regarding grammar and punctuation, and to a particular interpretation of a verse by Tulsidas from Vinay Patrika.
Chapter 17 — 'Tulsi ke pad' — has sampled a famous verse titled 'Jau kahan taji charan tumhare', which wrongly quotes the line "Khag, mrug, vyadh , pashaan, vitap jadyavan kavan sur taarey" as "Khag, mrug, byadh, pashaan, bitap jad, javan kavan sur taarey".  The interpretation of the line at the end of the chapter explained the word 'javan'': "A young man; it is said that a Muslim died after being attacked by a boar and in his last breath he uttered the word 'haram'. The utterance, of the word 'Ram' even if inadvertently, gave him salvation."
Kandolkar says his Muslim students have strongly objected to this interpretation. The letter was written last month.
"Not only there are factual errors in the chapters, but also several mistakes in the 26-line foreword by the GSSTB. What has been bothering the students and teachers is the explanation of 'javan'. A student stood up in my class and asked why such an explanation is used when our religion and the Quran does not allow to believe in any other form of God other than Allah? How can this chapter preach such a thing?," he told The Indian Express.
When contacted, the GSSTB chairman Nitin Pethani said that if there are such errors, the book will soon be reviewed. The textbook board director H N Chavda said, "It is part of the explanation to references like 'khag', 'mrug;', 'vyadh', 'pashaan', 'bitap' and 'javan' about who attained salvation by Lord Ram and there is nothing out of place in content."
Chavda, however, agreed that the GSSTB could have done away with such content that disturbed religious sentiments.  He also directed the subject expert committee head to look into the matter and ensure efficient checks before approving content for the textbooks.
The factual errors include wrong spellings of authors, words and punctuation, that lead to a complete change of meaning. Besides, famous author Sudarshan's birth and death year has been printed as 1968. For instance, samjhaiye is spelt as samjaiye, taskaari as tarkaari, rashtriya as rastriya. Vidhya is used in place of vidha, dhav in place of ghav (wound), dhor (cattle) in place of ghor (grave), vidh in place of vish.